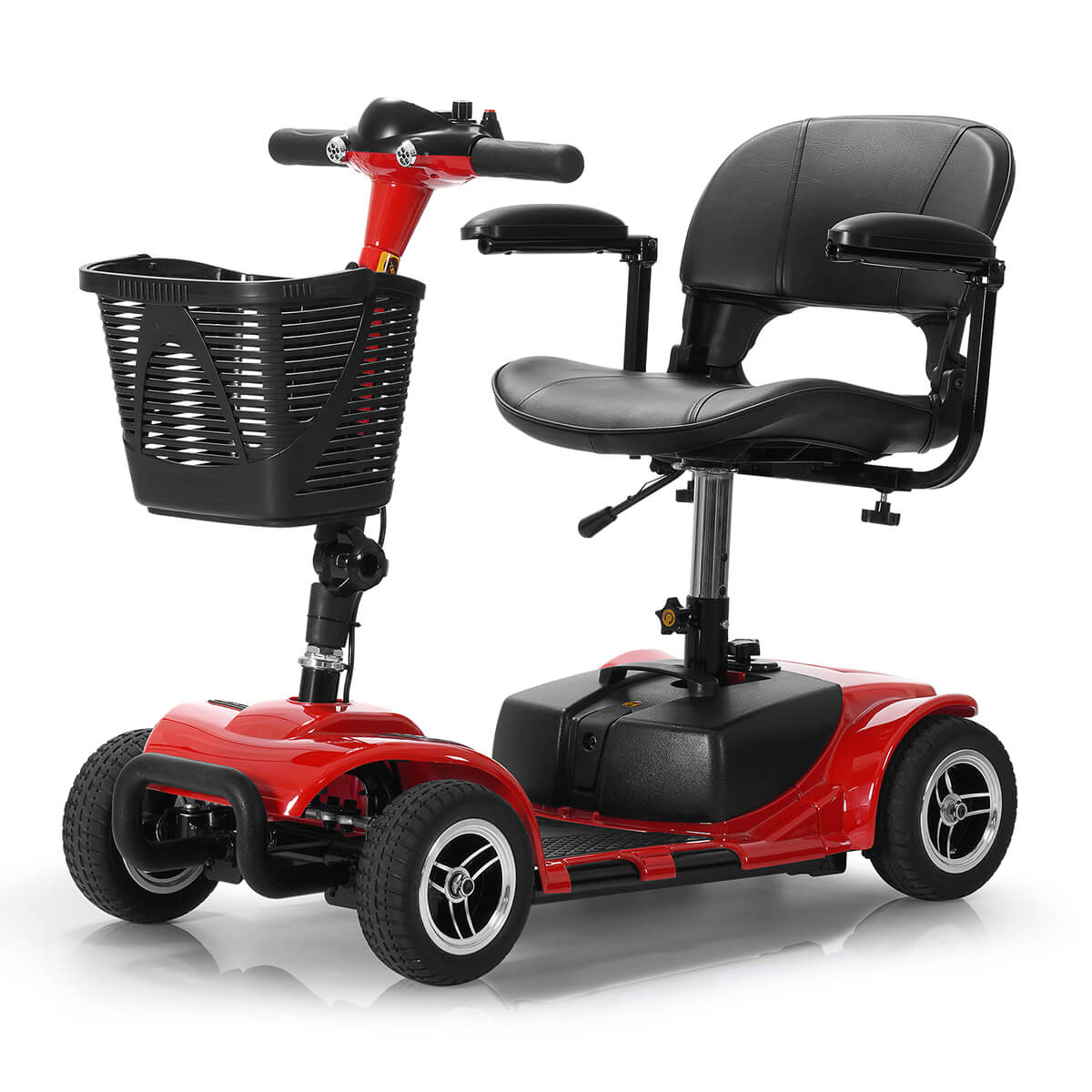 4 Wheel Electric Mobility Scooter
---

[SAFELY NAVIGATE SMOOTH SURFACES] The 4-Wheel Mobility Scooter is designed for easy maneuverability over both smooth indoor surfaces and rough outdoor terrain. With a maximum weight capacity of 265 pounds, this scooter ensures safety and durability. The flat-free, non-marking 8" tires provide a comfortable and secure ride. It can reach a maximum speed of 4 mph and travel up to 13.5 miles per charge.

[COMFORTABLE SEATING] The scooter features a wide, padded seat (16") and backrest that offer gentle cushioning and support. The swivel seat allows for easy dismount without causing back pain. The height-adjustable seat ensures a comfortable fit with just the push of a lever. Additionally, the scooter is equipped with adjustable and flip-up armrests for added convenience during boarding or exiting.

[EASY TO TRANSPORT] The Mobility Scooter can be quickly disassembled into 5 separate pieces, making it easily portable. With a folding tiller and removable seat, each section fits effortlessly into the trunk of most standard vehicles. The heaviest section weighs only 29 pounds, ensuring hassle-free transportation.

[INTUITIVE EASY-TO-USE CONTROL PANEL] The control panel, located on the tiller console, offers user-friendly operation. It includes a variable speed dial for setting the maximum speed, a direction switch for easy forward or reverse movement, a headlight switch, and a warning tone. The battery life indicator utilizes color-coding, allowing users to check the battery status at a glance.

Specifications:

Top Speed: 4 mph
Maximum Drive Range Per Charge: 13.5 miles
Heaviest Piece: 29 lbs.
Weight Capacity: 265 lbs.
Total Weight: 102 lbs.
Brakes: Electromagnetic.
Seat Dimensions: 17" W x 15" D
Product Dimensions: 41" L x 19.7" W x 33" H
We accept returns for items within 60 days of purchase. To be eligible for a refund, the product must be returned in its original condition and free of stains or damage. Learn More >> Return Policy
We are committed to providing a 5-year limited warranty, and we will provide free repair or replacement for parts, workmanship and structural defects arising within five years. Learn more >> Warranty Policy
Soulout all orders are free shipping.

All orders will be delivered to you within 3-6 business days. (Processing time: 1-2 bussiness days, Shipping time: 2-4 bussiness days) Learn more >> Shipping Policy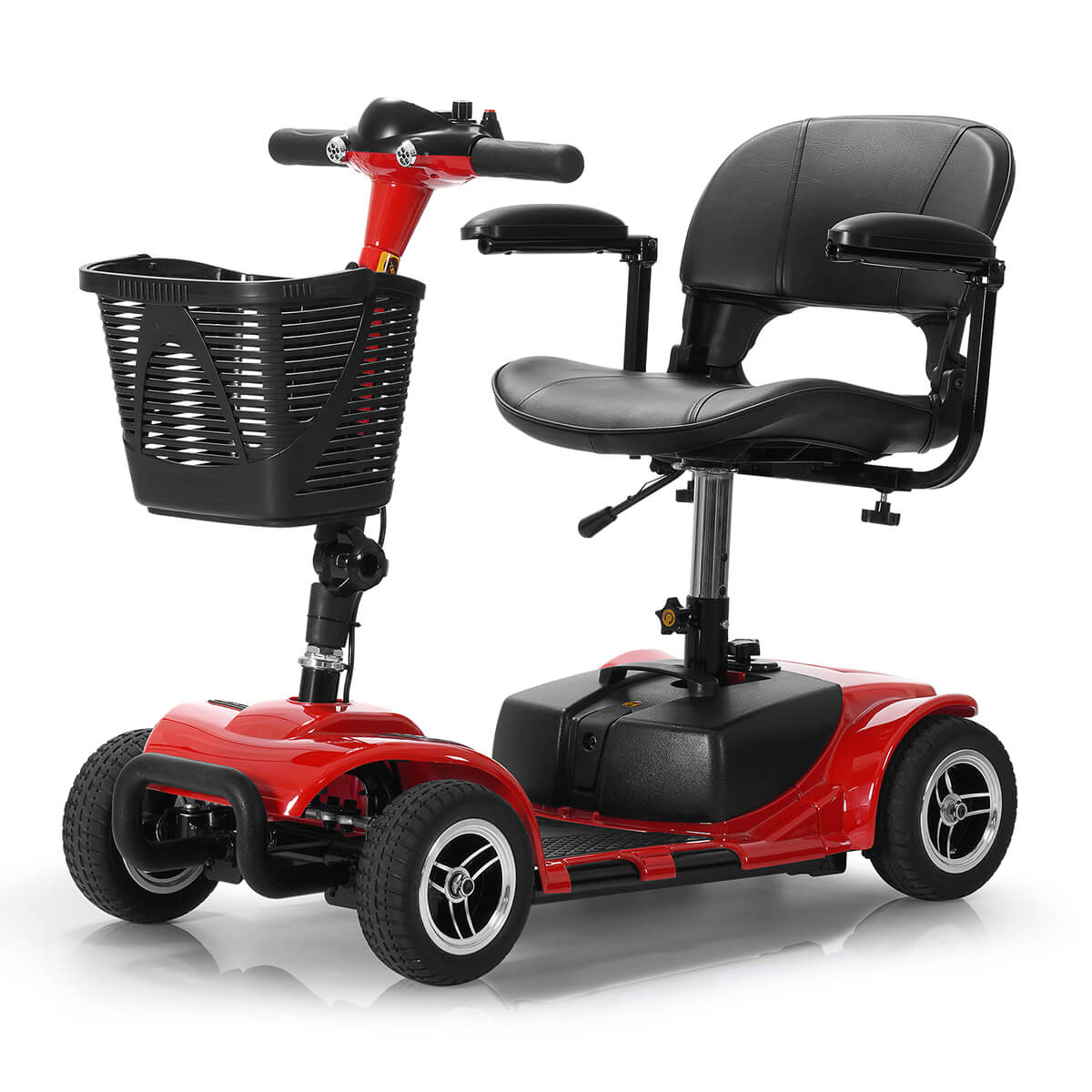 What is the shipping, return and warranty policy?

All orders will be delivered to you within 3-6 business days. (Processing time: 1-2 bussiness days, Shipping time: 2-4 bussiness days) Learn More >> Shipping Policy

We accept returns for items within 60 days of purchase. To be eligible for a refund, the product must be returned in its original condition and free of stains or damage. Learn More >> Return Policy

We are committed to providing a 5-year limited warranty, and we will provide free repair or replacement for parts, workmanship and structural defects arising within five years. Learn more >> Warranty Policy
Will I be able to take the battery off of the scooter for charging?

Yes, the battery pack is removable for convenient off-board charging.
Does the scooter have a reverse for backing up?

Yes! The mobility scooter can be driven in reverse, perfect for backing out of elevators, hallways and similar areas.
Is the scooter TSA approved?

Yes, the scooter is TSA approved and safe for air travel.
Is the scooter easy to put together?

Yes! The mobility scooter is easy to assemble: no tools required.
Made her day!!
It arrived on time' easy to assemble! Was a gift for my aunt and she LOVED it! she is now mobile and extremely happy!
Great product
This lift chair is perfect for my husband since he's an amputee and is unable to stand from regular recliner. This lift chair is very stylish and have lots of pockets for easy access for cell phone and the remote control. The massage and heating features were very healing. I aslo purchased a Soulout mobility scooter and it's still so perfect! This purchase surpassed my expectations, I would highly recommend this brand!
Do not recommend
I purchased the scooter for my dad who weighs 250 pounds, I emailed for several days never got a response. I called the number and they wanna give me $25 to keep it and told me it's very expensive to ship it back and they would not cover the cost although it's an inaccurate web description. I do not recommend this company. The refund policy is not true. It's false advertisement.
You may also like
Save 50%
Save 51%
Save 37%
Save 31%
Save 46%
Save 40%