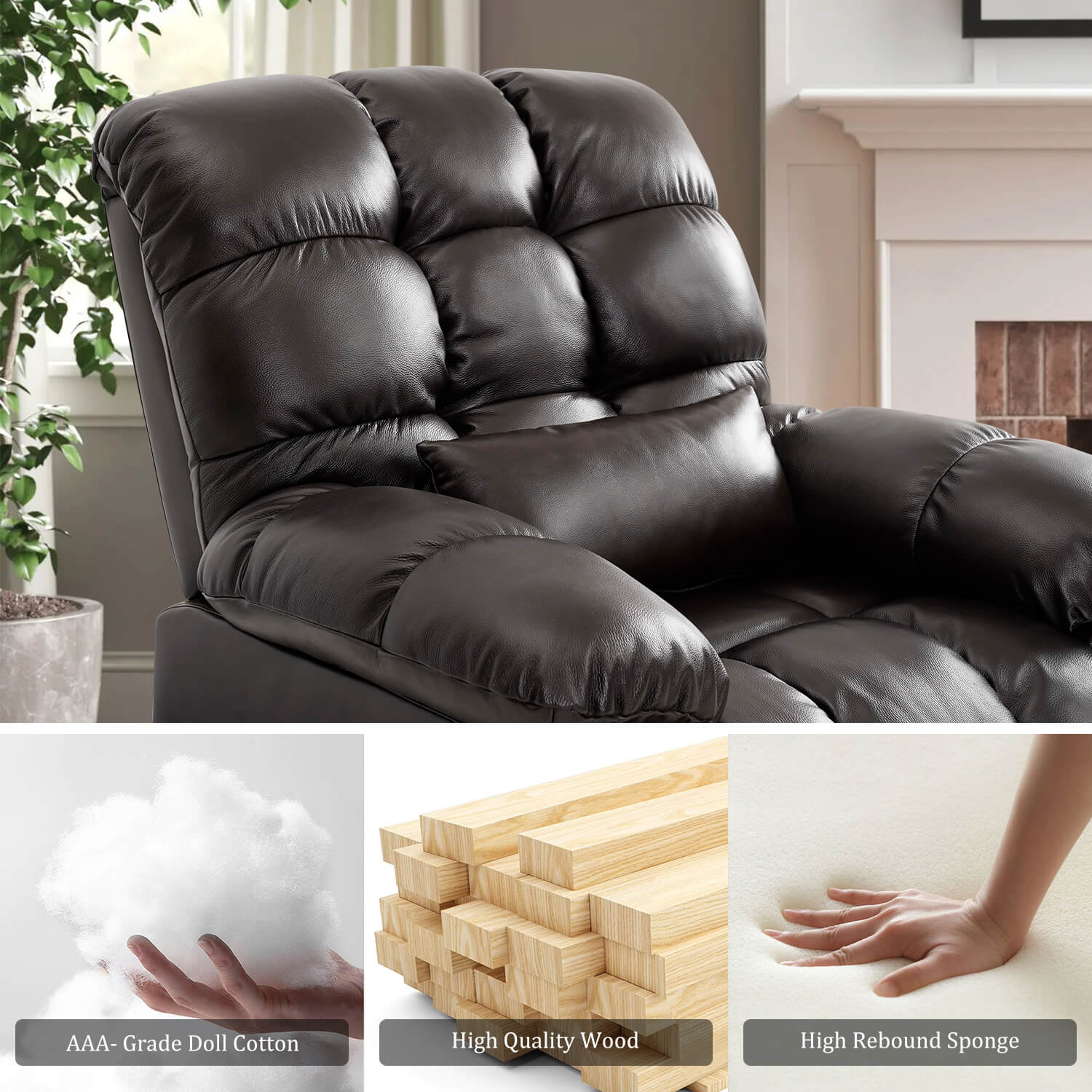 Zero Gravity Power Lift Recliner Chair, Three Motor
---

This beautiful Zero Gravity lift chair is classic and elegant. It is incredibly sturdy and comfortable and serves two purposes. Firstly, it offers a power lift function ideal for elderly people who have difficulty standing from a sitting position.

It also works as reclining sofa chair that gently reclines the chair with a simple push of a button.

Perfect for watching TV, napping ,and reading. lt is simple to operate, very quiet and smooth. lt can be adjust to any position and gives you extreme comfort when reclining.

Features

【THREE OKIN MOTOR】This lift chair is powered by electric and three motor. Each motor extremely quiet, smooth and works independently. The backrest and footrest can be adjusted individually. You can get any position you want easily, lifting this recliner by the 6 buttons hand controller. push the entire chair up to help seniors to stand up easily, it's ideal for people who have leg/back problems or people who after surgery.

【ZERO-GRAVITY CHAIR】Our power lift chair provides a stress-free weightless feel by pressing the "ZG" button, which can reduce spinal muscle fatigue and spine pressure when the back angle is similar to standing for ultimate relaxation.

【INFINITE POSITION】 The backrest can be operated from 105°to 180°, and the footrest can be operated from 90° to 180°. The position lock of the lift chair is infinite. You can recline to almost level or any degree above that (with or without raising the footrest),and the seat lift-which can be raised and lowered to any desired degree-is an outstanding feature.Extending footrest and reclining feature allows you to fully stretch and relax,like reading, sleeping, watching TV and so on.

[FULL BODY MASSAGE WITH HEATING] This electric chair features an advanced 8 points massage system that targets your back, lumbar, thighs and legs. With 5 adjustable modes and 2 intensity options, you can enjoy a personalized full-body massage experience at home. The lumbar heating function helps reduce stress and fatigue by reducing pressure and blood circulation in the lumbar.

【COMFORTABLE AND STURDY】Oversized zero gravity recliner is made of ultra-soft leather with extra thick foam padding, matching soft and comfortable lumbar pillow, our oversized recliners provide extraordinary comfort, stretchy, and bounce to lay back and relax in. It's built from wood and solid steel with an anti-tipping counter-balanced lift mechanism, designed for big and tall.

Specifications:

Three OKIN motors
Zero Gravity&Infinite position tilt angle
Whole body vibration and lumbar heating, 8 vibration points and 1 lumbar heating point, 5 modes and 3 intensities to choose from
Made of luxury cowhide material
Strong structure, new solid wood skeleton, base high quality metal frame, high density foam sponge
New back style for maximum comfort and elegant new seam design
USB port(On the remote control)
Adjustable waist pillow
Extra large size and weight can be used for 350 lbs crowd use
Large side storage pockets on both sides for easy use
Easy assembly can be completed in 10-15 minutes
We accept returns for items within 60 days of purchase. To be eligible for a refund, the product must be returned in its original condition and free of stains or damage. Learn More >> Return Policy
We are committed to providing a 5-year limited warranty, and we will provide free repair or replacement for parts, workmanship and structural defects arising within five years. Learn more >> Warranty Policy
Soulout all orders are free shipping.

All orders will be delivered to you within 3-6 business days. (Processing time: 1-2 bussiness days, Shipping time: 2-4 bussiness days) Learn more >> Shipping Policy
TRUE ZERO GRAVITY SENSATION
Our 30 degree angle takes the usual TV watching and zero gravity positions to a whole new level. Only our offers a TRUE zero gravity sensation.putting less pressure on the spine and reducing spinal muscle fatigue.
Features
THREE OKIN MOTOR
This lift chair is powered by electric and three motor. Each motor extremely quiet, smooth and works independently. The unique feature of the three motors is backrest and footrest can be adjusted individually. You can get any position you want easily.

Genuine Leather
Zero Gravity Lift Chairs are high quality seats made from real animal leather for durability, comfort and beauty. The elasticity of the leather itself allows it to adapt to the curves of the body and provide good support. When you sit on it, you can feel the soft touch and comfortable support.
ONE-TOUCH FUNCTIONALITY
①One-Touch ZERO GRAVITY
②One-Touch TV
③One-Touch LOUNGE
④One-Touch SIT RECOVERY
⑤One-Touch MEMORY(Adjust to any position you like and remember it perfectly. You can find it directly with one click next time)
Three Motor Zero Gravity Power Lift Recliner Chair
What is zero gravity and why do you talk about it so much?

Zero gravity (also called neutral body posture) was first discovered by NASA to relieve gravity's pressure on astronauts uporshuttle launches.lt is a position that evenly ditributes pressure to the body.It is known to be the most optimal position for somebody who is tying to become relaxed.Not only does it relax the spine,but due to the elevation of the legs,it relieves pressure on the heart and lungs as well.Considering all the positive effects that zero gravity has on the body, we made sure that the Zero gravity recliner accommodated this position.

ls it okay to sleep in a recliner?

Yes, in fact, a power lift recliner can offer a more comfortable sleep than a standard mattress.
The Zero Gravity Lift Recliner goes beyond a standard powered recliner when it comes to features.Not only does it offer multiple recining positions to help you find the right position for comfortable sleep, but it provides lift capability, too—all that in one chair!.
Does the chair have weight or height limitations?

The chair is recommended for people who weigh up to 375 lbs and those up to 5.1'-5.9' in height.
Perfect Lift Recliner
I haven't sat comfortably in a long time. I purchased a recliner on other website, but the position the recliner put me in actually aggravated the neuropathy in my lower spine and one leg. This zero gravity lift recliner takes all the pressure off my lower back and offers a variety of positions depending on whether you want to fully recline, watch TV, eat, etc.
Zero gravity recliner
Delivered two days early. Even better than expected. Zero gravity position is where I get enough relaxation. The best part is the memory button remembers your most comfortable position and saves it so that the next time you adjust that position again!
Very comfortable
I bought this product to relieve edema in my legs and feet. It works very well.
I love my chair
I love its sleek design, perfect for my meditations. Thanks again!
Amazing comfort
It was a little weird going into zero gravity for the first time, but once you get used to the feeling, oh my ......
I have a herniated disc and a Chira's deformity (non-surgical) and this helped release the pressure and pain.